Publications

Winter 2005 Newsletter
Lawndale School District Engages Community in Planning for Child Care, Family Resource Center and Park

The Lawndale Elementary School District, one of eighty school districts in L.A. County, runs eight school sites in the South Bay, including a state preschool. The district is presently working with NSBN and community stakeholders to plan, fund and build an additional preschool facility that will be co-located with recreation and other social services on park land the district presently leases to the County to manage for recreational use. Community charrettes have been held to enlist the community in the planning. NSBN presents an interview with Lawndale Superintendent Dr. Joseph Condon about this innovative project and how it can be a model for the state.
Superintendent Clark, what about the challenges and opportunities of building schools in Northwest Pasadena led you to form these relationships with the city and NSBN?
Initially, our motivation was parochial, in that we had the need to expand preschool capacity in our community. We presently serve 500 children in preschool, and we know that we have approximately 500 more children at ages three and four who could be served if we had room and resources for the program. So, we were looking for a project that would expand our preschool when we heard about NSBN.
At the beginning of our meetings with NSBN, I wasn't sure if anything would end up working out, but I just asked myself, "Why shouldn't I take the time to explore it and find out?" Our collaboration began to take on a life of its own and really became far greater than initially we envisioned it could be. The project now brings in the community to a greater degree than we had ever done before.
Talk a little bit about the definition of the project, the boundaries, the real estate involved, and the opportunity it presents to you as it has evolved.
The project will be located on Bodger Park, a piece of property owned by the school district but which has been operated as a county regional park by the County of Los Angeles for 40 or more years. That area of the district has the greatest number of preschool-aged children, according to the demographic information that we have, but our ability to serve preschoolers has been restricted because we just don't have the facilities.
So, we are looking to take approximately 2.5 acres of land that is presently a very underused area of the park - in fact, we do not use it as a playground at all, because it is on a part of the property that is too remote to supervise - and develop a facility that will serve preschool through adult levels, including community college classes. We would offer the preschool program. Richstone Family Services would offer family services and counseling. Little Company of Mary Hospital is interested in offering some medical services at the site. We have also been meeting with El Camino Community College to look at offering adult classes in the evening, because there is a high density in that area that they want to reach.
First 5 LA is supporting NSBN's work with school districts like Lawndale. They are particularly interested in fostering the engagement of community in public facility planning processes which lead to the kinds of joint-use and co-location outcomes that we have been discussing. Please describe the planning charrettes and the community engagement strategies that Lawndale has encouraged and NSBN has implemented.
This project has been a fun learning experience for me personally and, I think, for the District as an organization. The process was different than we had used here previously. I had participated in charrettes before, but the District had never sponsored one. The assistance of the architect and NSBN staff in putting them together was very instructive to us.
With NSBN's help, we reached out to the surrounding community and sponsored three charrettes. The two conducted at the beginning of the project looked at what kind of project might have legs and would work in that community - in other words, what is the community looking for in terms of programs, assistance, and opportunities? The last one was focused primarily on a grant proposal that is being submitted to rehabilitate the park, which has not been improved in at least forty years. That charrette focused on the opportunities that young people have for after-school, weekend, and evening sporting events on the park. So, different constituents attended different charrettes. I would guess somewhere around a total of 75 to 100 people participated, including officials from the City of Hawthorne. I think the community felt honestly and sincerely engaged and walked away with an understanding that their input had direct impact on the outcome of the project.
Superintendent Condon, how has this project affected the Lawndale School Board's vision of how best to use its bond resources?
Although it did not come from Ted Kennedy originally, my favorite quote was delivered by Ted Kennedy at the funeral of his brother Robert when he said, "Some men see things that are and ask why not. He dreamt of things that never were and asked why not." I am blessed to work for a school board that also does that. A number of years back, the board asked how we were going accomplish the goals of our strategic plan, and my honest answer was that I had absolutely no idea. And yet, five years later when we reported back to them on the same strategic plan, we had in fact accomplished everything. I looked at this project much the same way, and I reminded the board of that in meetings. To some extent it is an "if you build it, they will come" kind of an attitude, and I am blessed with a board that is not anxious about it. In fact, three of the five board members have themselves participated in the charrettes, which gave them a chance to personally engage the community and to develop confidence in the process as well. Even though we haven't determined the funding source, it is not our main concern. We have a commitment to somehow accomplish this goal.
How complicated and challenging has it been as a Superintendent to work with school facility state bond money, state and county park bond funds, and even local bond money, to practically realize your community's joint-use agenda?
I think it is complicated because people have ownership attitudes and egos. One thing that NSBN has done very effectively is open people's eyes and show them a way different from the old parochial one. In that sense, it has been an exciting and fun opportunity to work on this project. Traditionally, agencies - school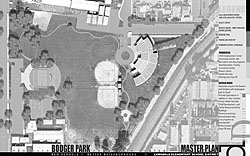 districts included - see their funding streams as singular in nature, meant only for a specific project or a specific agency. I don't think that we often look beyond our boundaries to find other agencies that have a common interest in a project like this, even though we may serve a common constituency. The way to overcome that problem is more attitudinal than anything else. It is to make sure that the core interests of people or organizations are protected, while at the same time to recognize that maybe our common interests are greater and deeper than we had heretofore understood them to be.
We have had many conversations in the course of Lawndale's community charrettes about what is the best model/public investment strategy for new school facilities. Should it be LAUSD's: only build more seats; or are the smaller, more independent school districts, like Lawndale, offering a better model? Is joint-use planning a good idea, but only for small school districts to employ?
I have never worked in LAUSD as an administrator, and so I don't have that perspective. However, this is the third project that I have been involved with that was brought to our district or to neighboring school districts because they were small enough to move rapidly, to commit, and to be personally involved in the project. My concern with having large districts like San Diego or Fresno as the model is that there are only five large districts is the State of California. Everyone else has a relatively small school district by comparison, and I think it is a mistake to use the approaches that you would take to a giant school district, overlay them on small districts, and expect them to work. It would be better to reverse that by working with the smaller districts in a variety of models and then taking the successful ones to a large district like LAUSD.
I remember working on a project a number of years back with a large state university and trying to get it through the bureaucracy. I lost energy before the project came to pass. I have since taken the same project to two smaller private universities and implemented them in a very short period of time. I just think large bureaucracies are difficult to work with unless you can bring them an established model. It is a difficult job to design the model using that kind of a bureaucratic approach.
Lastly, First 5 LA has now funded a new entity, called LAUP, to implement universal preschool for four-year-olds, which will require that more spaces be made available. What are the facility lessons learned from this NSBN project in Lawndale that might be applicable to LAUP?
I look at the LAUP project much as I would a player at the table in our project. They have the right to come to the table and represent their interests, and we can then collaboratively design outcomes that appeal to all interested parties. One size doesn't fit all in any of these projects.
At the same time, we are already running a preschool program for regular education and special education threeyear- olds and up. We have a home teaching program that sends teachers into the homes of preschoolers to work with them there. We have been quite successful. I hope that LAUP will talk to us, because I think we have a model that may in fact meet their needs and do it more rapidly than designing an entirely new model of service delivery.